Secondary Investment Casting Services
To complement our world-class investment casting capabilities, Aero Metals offers a range of value-add services to give our customers more complete, ready-to-use parts. These secondary operations will reduce the need for further processing, either at your facility or through another vendor, thereby reducing the time, effort, and headaches associated with your project. Our goal is to be a one-stop shop providing truly finished investment cast parts.
Our value-add services include, but are not limited to:
Cast Part Engineering
Aero Metals is an "engineering-centric" casting company. Our expert team will help you optimize your part designs for more efficient and cost-effective production through cast part engineering. We have built a reputation for finding ways to produce complex, highly intricate parts that others in our industry cannot.
In-House Toolmaking
Our company was founded by toolmakers, and we maintain a complete, in-house tool and die shop. This helps us maintain the high levels of quality and accuracy our customers have come to expect. In-house toolmaking enables us to cast almost any part at net or near-net shape, with tolerances of ±0.005".
Machining
We have advanced CNC machining equipment in-house to perform any additional machining our customers' parts may require. This helps us produce finished, complete-to-print parts and reduces the number of vendors you need to work with on your project.
At Aero Metals, we know nothing is ever so good that it can't be improved. Holding true to our mission of continuous improvement, we constantly strive to make our machining capabilities even better through the use of new technologies and new manufacturing techniques. As noted in Modern Machine Shop, with the recent addition of a new vertical machining center with a specialized workholding cell.  Our commitment to new technologies vastly improves our machining efficiency and turnaround times while reducing overall costs for our customers. 
Non-Destructive Testing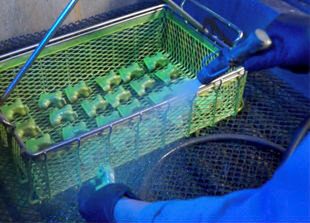 Aero Metals offers in-house, non-destructive testing for all cast parts and components. We have a NADCAP-certified subsidiary company, American Metal Testing Inc., which tests our castings for quality and uniformity. In-house testing reduces lead times and ensures that the parts you receive will meet or exceed your expectations.
View Some of Aero Metals Past Projects
Aero Metals is your one-stop shop for fully finished, complete-to-print investment cast parts and components. We do more of the work so you don't have to! Check out our metal casting part gallery to see some of our past projects.
The Aero Metals Advantage for Precision Investment Casting
There are several reasons to choose Aero Metals as your source for precision investment castings. Our expert team is results driven and provides the following approach to your investment casting needs.
Engineering centric with a metal casting focus
Custom design and build your tools in house
Extensive experience with complex geometries and hard-to-manufacture parts
Capable of handling high-volume investment castings
Numerous material options, including ferrous and non-ferrous alloys
In-house CNC machining capabilities to complete your metal castings
One-stop shop for investment castings and casting-based assemblies
Guaranteed consistent quality
Our team is comprised of highly-skilled, very experienced toolmakers, engineers, foundry and production technicians you won't find anywhere else.
Contact Aero Metals for your Metal Casting Project Today
Contact us for more information or send us a quick email!